The Hour of Code is a global movement reaching tens of millions of students in 180+ countries. Anyone anywhere can organize an Hour of Code event. One-hour tutorials are available in over 30 languages. No experience is needed. Ages 4 to 104. As of this moment, 92,800,320 students have done the Hour of Code and written 4,587,866,151 lines of code.
Based on the current statistics, there's no doubt that the shortage of engineers is a problem not only in the U.S., but also in different parts of the globe, and especially for companies struggling to hire those versed in science and math. So it makes sense why people like President Barack Obama, celebrities Shakira, Ashton Kutcher, Angela Bassett, athletes like Chris Bosh, Warren Sapp, and Dwight Howard, along with tech leaders like Steve Jobs, Bill Gates, Mark Zuckerberg, and companies like Microsoft, Google and Apple are getting behind to promote the Hour of Code: a way for students to get a taste of programming in just an hour-long lesson.
In the celebration of the 2014 Computer Science Education Week (December 8-14), though Hour of Code is not a competition, we're proud to report that the Philippines is one of the top countries in the Hour of Code Global Leaderboards for having one of the highest participation rates in Hour of Code activities, with a total of 112 events as of today, January 11, 2015.
Some events were rescheduled due to impending Typhoon Hagupit, but that didn't stop the teams from accomplishing their goal of teaching K-12 students and others from non-tech colleges how to code.
Let's look back as we bring you some of the photographs taken from the recently concluded Hour of Code activities spearheaded by our Microsoft Student Partners.
December 8, 2014, The Grade 9 students of Central Luzon State University – University Science High School participated in the Hour of Code where they created their first app using TouchDevelop.
In the TouchDevelop programming environment, you write scripts by tapping on the screen. You do not need a separate PC or keyboard. Scripts can perform various tasks similar to regular apps. Any TouchDevelop user can install, run, edit, publish scripts. You can also share scripts with other people by publishing them to the TouchDevelop script bazaar or submitting them as an app to the Windows Store or Windows Phone Store.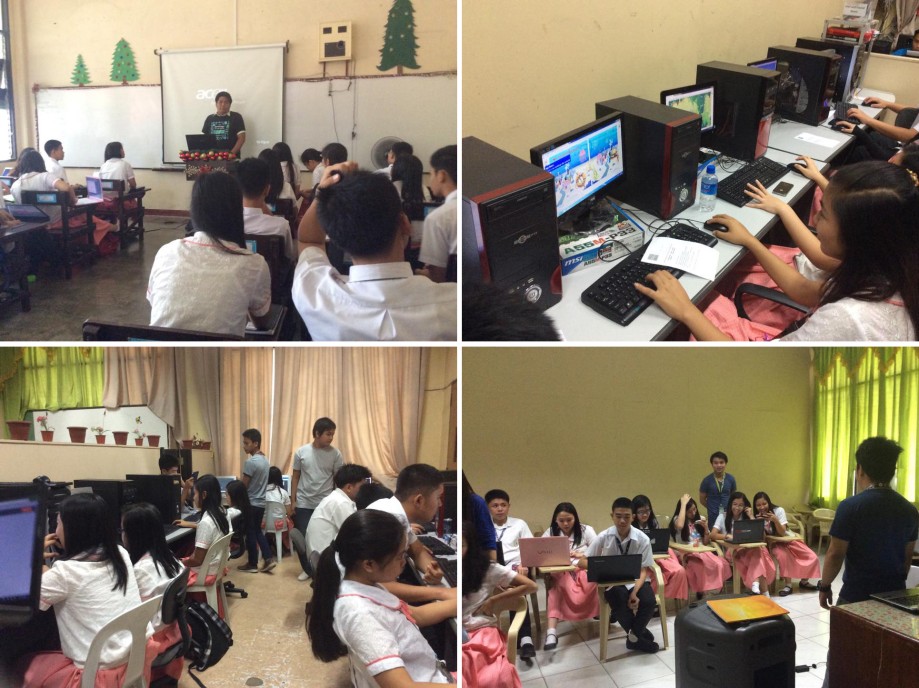 Also on the same day, more than 150 high school students of Lorma Colleges Special Science High School have participated in the Hour of Code in San Juan, La Union. The students had a great time creating their first app also using TouchDevelop.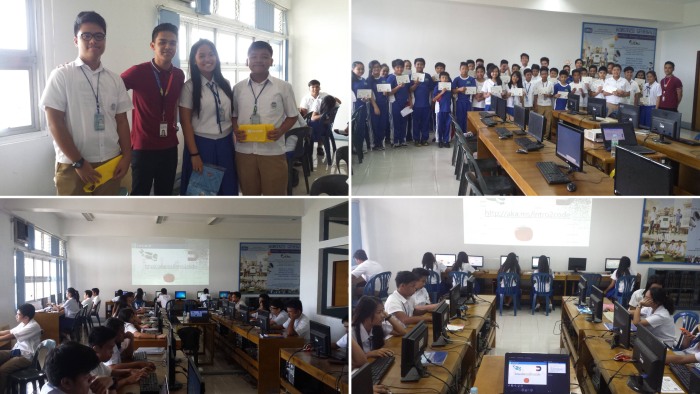 December 09, 2014, Grade 9 and Fourth Year High School Students of San Sebastian College-Recoletos Manila participated in the global annual Hour of Code with the Microsoft Student Partners of FEU Institute of Technology, in collaboration with the MSPs of SSC-R.
The participants experienced fixing a game called Jetpack Jumper on TouchDevelop and learned basic programming concepts from the activity. They have also tried other programming-related puzzles and games from code.org, including Lightbot, Tynker, and Code With Anna And Elsa. Top students in each section who finished it early will be given freebies from the MSPs.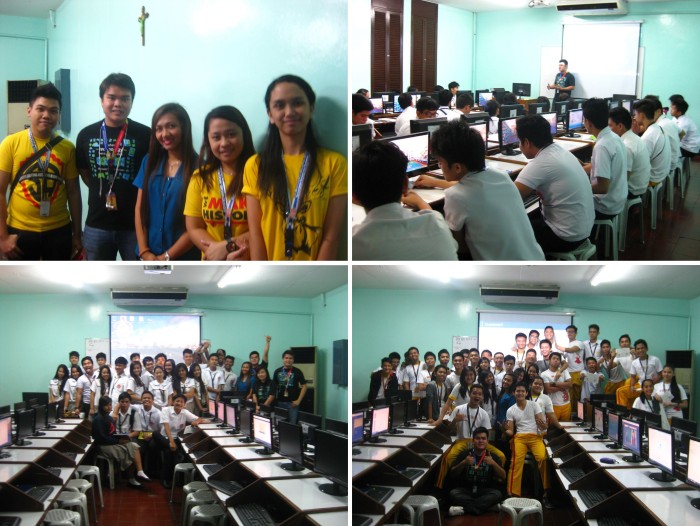 December 10, 2014, the Hour of Code in the University of Northern Philippines was a success with the help of the UNP Microsoft Student Partners and 2nd-year UNP-BS Information Technology students, where they have invited 335 participants. Each of them eventually got an instant certificate after they completed a particular course. They learned through video lectures on how to write first computer program, how to create Flappy Bird Game, and how to code with Anna and Elsa.
"Ultimately, it was evidently fun because all we saw that day was our participants smiling as they write their code. It was worth the effort." said Dwight Steven Navarro, our Microsoft Student Partner from UNP.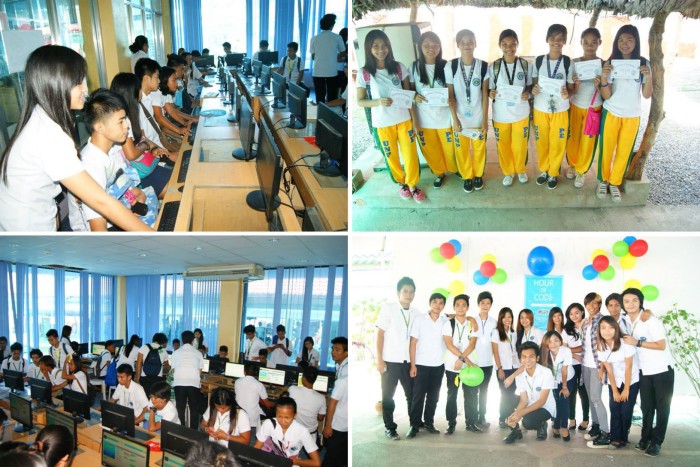 December 12, 2014, Three sessions of Hour of Code happened yesterday where a group of Nutrition & Food Technology and Sophomore Engineering Students of TUP-Manila participated in Hour of Code where they tried Touch Develop. An HoC wall was also present in the venue to let the participants express their feedback about their experience through sticky notes and we're glad to hear that they all enjoyed it.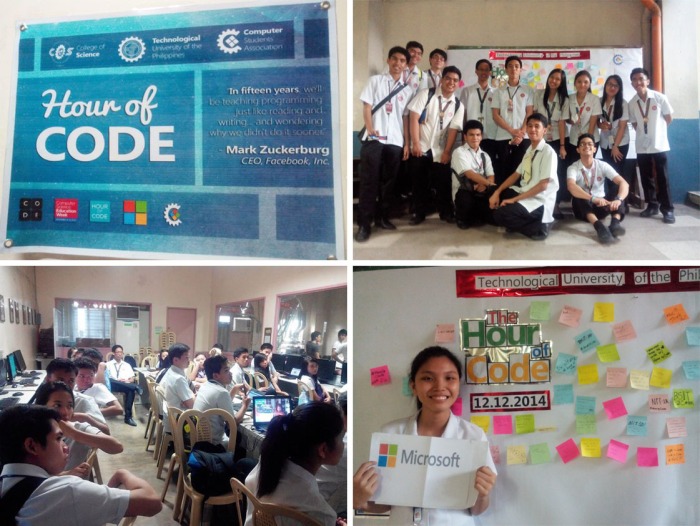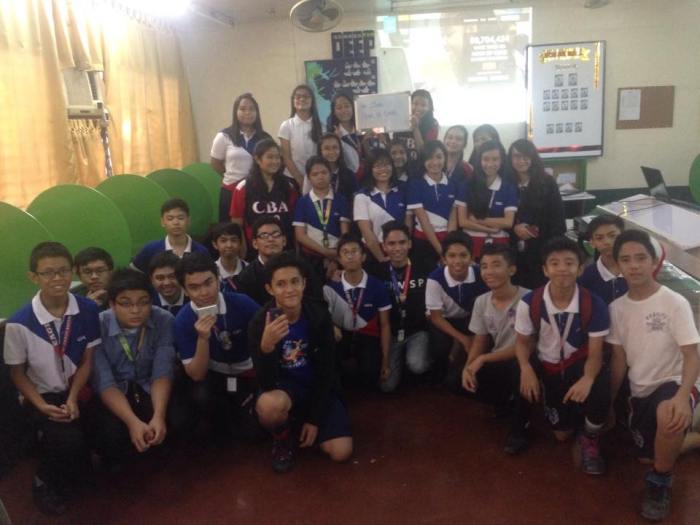 The Microsoft Philippines Academic Team is really thankful to the people who made this series of Hour of Code events a success: the Filipino Microsoft Student Partners as well as to the Filipino educators and tech enthusiasts. Congratulations for successfully hosting Hour of Code activities and for initiating the movement in schools across the country. You have just been an instrument in opening the minds of the Filipino youth to the boundless opportunities that they can unlock through learning programming.
To see the Philippine Hour of Code activities held recently, check out the official list here.
If you want to check out the Hour of Code Global Leaderboards, click here.
To give the Hour of Code a try for yourself and for your community, it's never late to start. Visit code.org/learn.
Source: https://msacadph.wordpress.com/2015/01/11/philippines-is-one-of-the-top-countries-in-the-hour-of-code-global-leaderboards/